Download the ONB Mobile Banking App directly to your smartphone1.
Deposit your check to your ONB Bank checking account from anywhere on your smart phone using ONB Mobile Deposit2, when it's convenient for you.  The ONB Mobile Banking App combines the benefits Internet banking with the power of AndroidTM phones  as well as the iPhone®, providing quick access to account information.
System Requirements for Mobile Banking Application:
iOS devices (iOS 10+) – iPhone
Android devices (OS 7.0+)
Note:  As of 9.x, Digital Banking no longer supports Android OS versions 6 and below.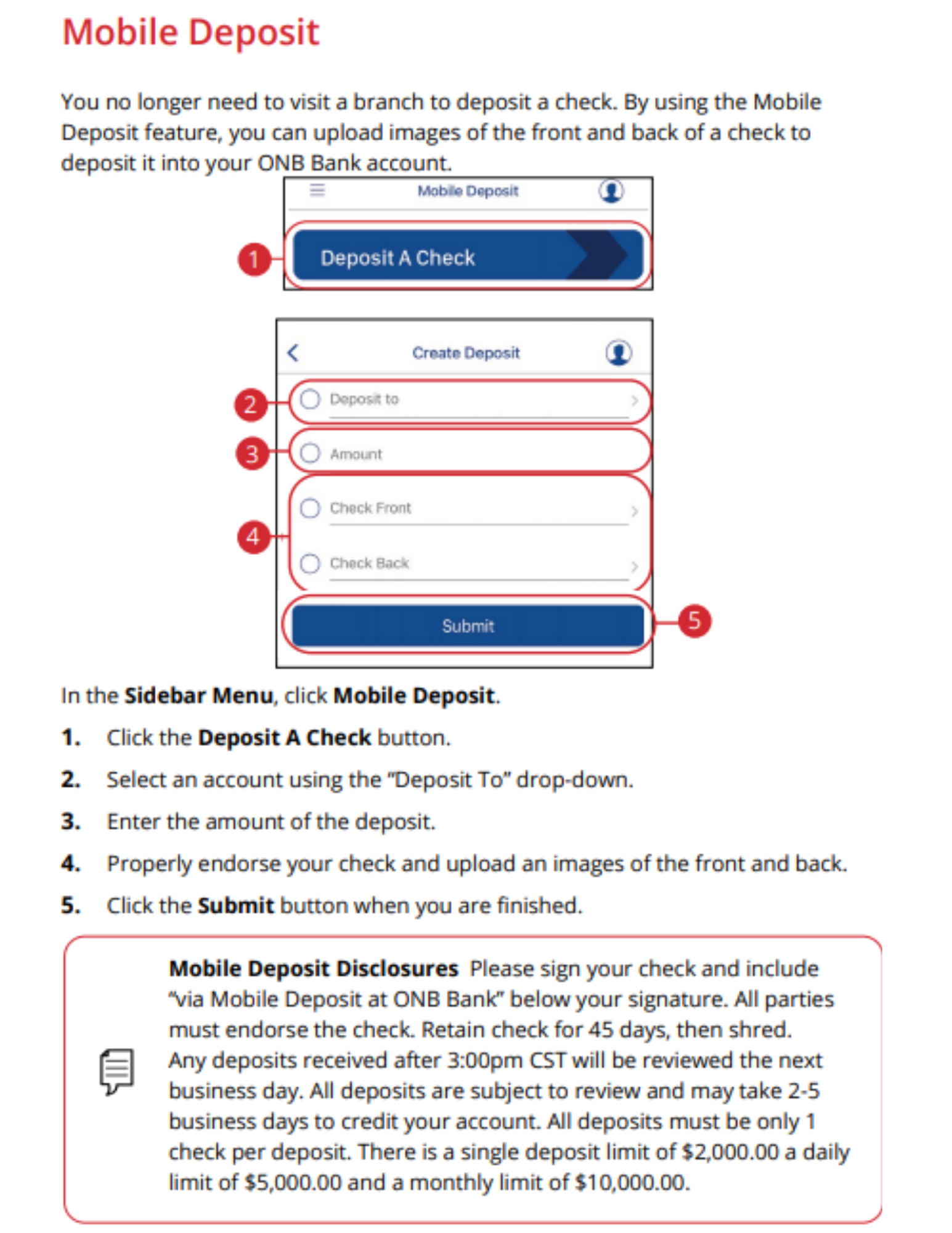 Best Practices for using Mobile Deposit
Endorse the back of your check with "via Mobile Deposit at ONB Bank" to avoid your checks being rejected
Sign the back of your check with your signature
Flatten folded or crumpled checks before taking your photos
Keep the check within the view finder on the camera screen when capturing your check photos
Try to limit the areas around the check when taking pictures
Take the photos of your check in a well-lit area
Place the check on a flat, solid surface
Hold the camera as square and as steady as possible
Make sure the entire check image is visible and in focus
Maintain deposited checks for your records for 90 days.
The ONB Mobile Banking App is a free download.  Download the ONB Mobile Banking App from the iTunes or AndroidTM app stores.  Other fees may apply.
Check with your mobile service provider for details on their data access fees or data charges.
To learn more, check out these FAQs on ONB Mobile Deposit!
1 ONB Mobile app is available for AndroidTM phones and iPhone®.
Your mobile carrier may charge access fees depending upon your individual plan. Web access is needed to use Mobile App. Check with your carrier for specific fees and charges. Some mobile features may require additional online setup. Any fees for optional transactions will be identified during registration for these services and during their use.
To be eligible for ONB Mobile Deposit, you must be an ONB Bank Internet Banking customer with direct ownership in an ONB Bank Checking account, accept the ONB Mobile Deposit Services Disclosure and Agreement, and have no more than two returned deposited items in the past three months.
2 ONB Mobile Deposit is available for checks of $2,000 or less.  Deposits are subject to verification and are not available for immediate withdrawal.