ONB Bank Community Spotlight – April 2021

Community Spotlight:  GIFT OF LIFE TRANSPLANT HOUSE
This dream began in 1973 when Edward Pompeian received "the gift of life," a kidney, from his mother, Helen. Ed's personal experience with transplantation led him to believe that the health and well-being of transplant patients and their families would be better served by living in a home-like setting.
In December 1984, Gift of Life, Inc., officially opened its doors with its first home at 624 West Center Street which provided accommodations for 16. The need for affordable lodging continued to grow and in November 2009, a second house created an additional 36 guest rooms.
Now the Gift of Life Transplant House is the largest transplant house program in the country at 84 rooms. From the beginning to today, almost 35 years later, it has been here to offer a supportive home-like environment for transplant patients and their caregivers to heal.
Next month Community Spotlight: PossAbilities of Southern MN
Last month Community Spotlight: Bolder Options
Charitable donations for the month of March 2021: Stewartville Diamond Club; Rochester Salvation Army
ONB Bank believes that a strong believer in supporting the local community. We have an annual budget set aside to invest in the groups that help make the community stronger.
_____________________________________________________________________________________________________________________________________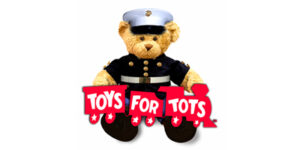 All 3 of our locations are proud to partake in the TOYS FOR TOTS collection drive!  You will find the toy collection box in our lobbies at all locations.  The need is GREAT this year.  Please help our community by donating unwrapped toys to those in need.  The dates of the collection drive are Nov 5th-Nov 30th.  We even have a LIVE RADIO collection event on Nov. 20th from 3pm – 5pm with LASER 101.7 Big Mark Clark at our main location – 975 34th Ave NW, Rochester, MN 55901!  Thanks for making a difference!
---
ONB Team Members volunteered their time to clean up the grounds around our bank locations, as well as a public park!  Not only is it better for the environment and animals, but it sure looks so much nicer!
---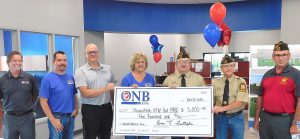 ONB Bank is proud to announce our donation of $5,000.00 to the Stewartville Veteran's Memorial Park being constructed at 740 2nd Ave S.W., Stewartville, MN.  This donation was also anonymously matched dollar for dollar turning this into a $10,000.00 donation!  #yourcommunitybank