ONB Bank Community Spotlight – June 2021
This month's Community Spotlight:  Next Chapter Ministries

http://nextchapterrochester.org/
Next Chapter Ministries began to form in 1991 when Andy Kilen started volunteering in the Olmsted County Jail, leading Bible Studies once a week. During these Bible studies, it became apparent that many of the inmates wanted and needed further help after they were released. Statistically, these inmates' need for help was very real, as two-thirds of released prisoners are today rearrested within three years.
Because of this need, and after much prayer and planning, the Network For Life group was created, bringing together released prisoners and church members in a weekly Bible Study/support group. It was from these initial small group meetings that Next Chapter Ministries formed, becoming an official non-profit organization in 2000.
Today, Next Chapter Ministries has grown to include three residential houses for men, a non-residential house for women, and home for families in collaboration with Together For Good, all impacted by the cycle of incarceration. Each home is designed to address the trauma that our participants have sustained. Our services start in but go beyond the home into some of the deep-end systems that our participants are found in. Our family system approach is evidenced based and proven to contribute to holistic Gospel Transformation.
Mission: Next Chapter's mission is to build lasting relationships with people impacted by the cycle of incarceration, restoring them to God, family, and community through holistic Gospel transformation.
Next month Community Spotlight: NAMI
Last month Community Spotlight: PossAbilities
Charitable donations for the month of May 2021: Chatfield High School Prom; Sprint for the Cure; Stewartville Summerfest; Chatfield Baseball Field Scoreboard; Olmsted County Fair.
ONB Bank is a strong believer in supporting the local community.
We have an annual budget set aside to invest in the groups that help make the community stronger.
---
March 2021– ONB Team Members volunteered their time to clean up the grounds around our bank locations, as well as a public park!  Not only is it better for the environment and animals, but it sure looks so much nicer!
---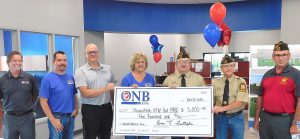 ONB Bank is proud to announce our donation of $5,000.00 to the Stewartville Veteran's Memorial Park being constructed at 740 2nd Ave S.W., Stewartville, MN.  This donation was also anonymously matched dollar for dollar turning this into a $10,000.00 donation!  #yourcommunitybank