ONB Bank Community Spotlight – September 2021
This month's Community Spotlight: Rochester Honkers

Website: https://northwoodsleague.com/rochester-honkers/
The Rochester Honkers are one of twenty-two teams in the Northwoods League, a collegiate summer baseball league. They were founded in 1994 and have won eight division titles and five league championships (1994, 1997, 1999, 2006 and most recently 2009) and are in the Great Plains West division. Their home games are played at Mayo Field in Rochester, Minnesota.
41 7th Ave NE Rochester, MN 55906 (507) 289-1170
Next month Community Spotlight: Family Services – Rochester
Last month Community Spotlight: Ability Building Center
Charitable donations for the month of August 2021: ABC Celebrating Abilities; Stewartville Fall Fest; RAB Youth Trap Shoot; Force for Good Donation; Holes for Hope Golf Tournament; RTAFF (Rt Autism Awareness Foundation); NAMI Minnesota (National Alliance on Mental Illness); The Women's Shelter and Support Center
ONB Bank believes in supporting the local community. We have an annual budget set aside to invest in the groups that help make the community stronger.
---
March 2021– ONB Team Members volunteered their time to clean up the grounds around our bank locations, as well as a public park!  Not only is it better for the environment and animals, but it sure looks so much nicer!
---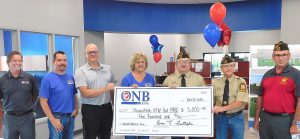 ONB Bank is proud to announce our donation of $5,000.00 to the Stewartville Veteran's Memorial Park being constructed at 740 2nd Ave S.W., Stewartville, MN.  This donation was also anonymously matched dollar for dollar turning this into a $10,000.00 donation!  #yourcommunitybank