ONB Bank Community Spotlight – October 2021
This month's Community Spotlight: Family Service- Rochester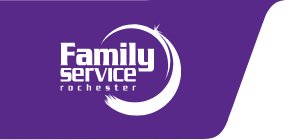 Website: https://familyservicerochester.org/
Family Service Rochester was founded in 1965 as a nonprofit organization with a staff of three and the mission to support and enhance the dignity and quality of life for individuals and families in our community.
In 1990, Sunrise Youth and Family Counseling and the Rochester branch of Minnesota's Consumer Credit Counseling Service joined with Family Counseling and Home Service to form Family Service Rochester.  This created three agency divisions providing a wide range of social services: Counseling, Consumer Credit Counseling Services and the Home Services Division.
For the past 15 years, they have sharpened their focus to working with families whom the community had not provided service. Major program expansions have been in the areas of child maltreatment, child welfare, domestic violence and providing our services to ethnically diverse populations in our community.
Today they provide more than 40 programs, across 11 different counties, to meet ever-changing community needs. With a staff of over 150 along with 400+ volunteers who provide a wide range of human services that educate, strengthen, support, protect, and empower individuals and families in our community.
 MAIN OFFICE – 4600 18th Ave NW
SOUTH OFFICE – 1625 Highway 14 East   507-287-2010
Next month Community Spotlight: Red Drop Resources
Last month Community Spotlight: Rochester Honkers Baseball
Charitable donations for the month of Sept 2021: Rotary Basketball, Oak Summit Golf Course, Rochester Honker Baseball, Stewartville Chamber of Commerce, NAMI SE MN, Women's Shelter, Rochester Area Builders Home Show, Rochester Area Chamber, RAEDI
ONB Bank believes in supporting the local community. We have an annual budget set aside to invest in the groups that help make the community stronger.
---
March 2021– ONB Team Members volunteered their time to clean up the grounds around our bank locations, as well as a public park!  Not only is it better for the environment and animals, but it sure looks so much nicer!
---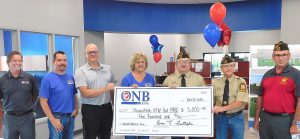 ONB Bank is proud to announce our donation of $5,000.00 to the Stewartville Veteran's Memorial Park being constructed at 740 2nd Ave S.W., Stewartville, MN.  This donation was also anonymously matched dollar for dollar turning this into a $10,000.00 donation!  #yourcommunitybank