Rochester Area Builders Home Show – 2/1/2017
Everything you need under one roof! Join us February 10-12, 2017 at Mayo Civic Center for the RAB Home Show. Stop by Olmsted National Bank's booth (#609) to talk with a representative about financing your next home project. You will also be able to register for one of our great prize giveaways. We hope to see you there! For more information visit: http://www.rochesterareabuilders.com/public-events/home-show/
Data Privacy Day 2017  – 1/23/2017
International Data Privacy Day is January 28, 2017. Learn how to protect your personal information and spread awareness to others about cyber security. For more information visit: http://www.staysafeonline.org
Rochester Area Sports Banquet – 1/19/2017
ONB is a proud sponsor of the Rochester Area Sports Banquet, hosted by Rochester Amateur Sports Commission. The banquet takes place on January 30, 2017 at the Mayo Civic Center – Exhibit Hall. Silent auction proceeds will benefit Bolder Options.
For more information on the event visit: http://www.rochsports.org/sportsbanquet
For more information on Bolder Options visit: http://bolderoptions.org/
Martin Luther King Jr. Day Holiday Hours – 1/9/2017
Olmsted National Bank will be closed on Monday January 16th in observance of Martin Luther King Jr. Day. We will resume regular hours on Tuesday January 17th.
Jeans Day Donations – 1/3/2017
We are excited to announce that we were able to raise $1,510 in 2016 with our Employee Jeans Day donations! Our staff has the option of wearing jeans on Fridays for $10/month. At the end of the year everyone nominates their favorite charities and a few are drawn to receive the proceeds. Through our staff's dedication to give back to our community, we were able to donate to 3 different charities this year.
Our 2016 proceeds were donated to:
Salvation Army
Humane Society
Make a Wish Foundation
Wit, Wisdom & Wine – 12/30/2016
ONB is proud to support local organizations such as the Rochester Public Library Foundation. Rochester Public Library will be hosting their 16th Annual Wit, Wisdom & Wine event on January 14, 2017. Be sure to bid on the ONB Silent Auction Basket while you are there! The basket includes a LTS Growler, LTS Gift Card, 2 ONB Pint Glasses, 2 ONB Can Koozies, and an ONB T-Shirt. For more information on the event go to www.RochesterPublicLibrary.org/wit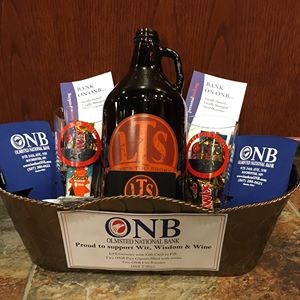 New Year's Day Holiday Hours – 12/28/2016
Olmsted National Bank will be closed on Monday January 2nd in observance of New Year's Day. We will resume regular hours on Tuesday January 3rd. We wish you a Safe and Happy New Year!
New Business Banking Online
There have been a few recent changes to our website. We now have a Business Banking Online feature. With the Business Banking Online feature you can setup administrator control over who can access your account. You control what your bookkeepers, employees, CPA, etc. can access. You can also create your own ACH batches for payroll, making payments, accepting payments from customers and more. Wire Transfers can also be requested securely. Please call to set up a time to come in and get your business switched over to the new Business Banking Online. If you are a business currently using online banking and haven't made the switch yet, you will need to log into your accounts using the Personal Banking Link.
Rochester Community Housing Partnership
Olmsted National Bank proudly supports Rochester Community Housing Partnership. Rochester Community Housing Partnership (CHP,) a non-profit, has a mission of educating, collaborating and advocating to provide affordable housing in southeast Minnesota. The pre-purchase counseling offers new homeowners the ability to review their current financial situation and find a mortgage product that will best meet their needs in obtaining a home.
Home Buyer education gives a new homeowner a better understanding of the process of buying a home. The goal of home buyer education is to prepare the buyer for Obtainable, Maintainable, and Sustainable homeownership.
Homeowners counseling-foreclosure counseling walks people through the opportunities of staying in their home when their financial picture is or has changed.
To learn more about Rochester Community Housing Partnership, check our their website rochp.org.
Once you are ready to take the next step, stop into our ONB Main Office to see Josh Buckmeier for all your Real Estate Lending needs.
IRA One-Rollover-Per-Year Rule Changes Effective January 1, 2015
The IRS has announced that the longstanding interpretation of the one-rollover-per-year rule will be changing effective January 1, 2015. Historically, the understanding has been that this rule applies to each IRA an individual owns. However, beginning "as early as January 1, 2015", according to the IRS website announcement, "you can make only one rollover from an IRA to another (or the same) IRA in any 12 month period, regardless of the number of IRAs you own". For more details, see the IRS announcement on their website: http://www.irs.gov/Retirement-Plans/IRA-One-Rollover-Per-Year-Rule.
Important Notice: Unauthorized access to payment card data at Supervalu Grocery Stores (Cub Foods).
A data breach at Supervalu may have impacted as many as 200 of its grocery and liquor stores and potentially affected retail chains recently sold by the company in two dozen states, including Cub Foods. The breach occurred between June 22nd and July 17th.
The information theft included customer name, credit or debit card number, the card's expiration date and CVV (the three-digit security code).
MasterCard provided Olmsted National Bank with a list of debit cards that may be at risk and if your name appears on any list you will receive a personal phone call from the bank to discuss your options.
As always, please review your statements for unusual transactions. If you suspect fraud, please contact Olmsted National Bank immediately at (507)-280-0621.
Android "Fake ID" flaw announced by Google
On July 29, 2014, Google announced that Android® devices could be left open to attack from malicious apps that appear to come from legitimate developers, due to a flaw in Google's mobile software. The flaw has been named "Fake ID" by security company Bluebox Labs, which discovered it.
Fake ID has been resident in Android® from version 2.1 to 4.4. Apparently, Google issued a fix in April as part of the latest update, Android® 4.4, also known as KitKat 4.4. If you have not upgraded your device to this version of their operating system, your mobile device could still be at risk.  You can easily verify your software version by going to Settings>About Phone and looking for the Android software version installed.
We make no recommendation of any third party security products. However, you may wish to review and determine if such services are appropriate for your individual needs.
We recommend that you upgrade all of your Android® device operating systems to version 4.4 or higher. We also recommend that all of our mobile banking clients update their operating systems as soon as possible after being prompted by the device to ensure a safe and secure mobile banking experience.
Thank you!
Olmsted National Bank
We have added a new feature to ONB Mobile App, Mobile Billpay!!  Whether you're at home, work, or on the go, use the ONB Mobile App on your smart phone or tablet to pay bills when it's convenient for you.  Bounce back and forth between the Online Banking and Mobile App versions seamlessly.  They're synced for accuracy and convenience.  That's important!
For current ONB Mobile App users, just download the update from the App Store on your mobile device and start using this convenient service!