NOW HIRING! – 8/19/2019
ONB Bank currently has an opening for Full-Time and Part-Time Tellers. If you are interested in applying, please fill out an Employment Application and email to Joan.Giefer@BankonONB.com
ONB FOOD DRIVE
ONB Bank will be participating once again in a food and fund drive for Channel One. You can drop off your donations at any ONB Bank location. The drive will be held from March 18th-April 1st 2019.
The items we will be collecting are as follows:
Canned tuna, ham or chicken, peanut butter, canned/dried beans
Canned fruits and vegetables
Boxed meals, hearty soups
Rice, pasta
Flour, sugar, oil
Gluten-free, low-sugar, low-sodium special non-perishable dietary foods
Personal care products such as: shampoo, deodorant, soap, toothpaste, diapers, toilet paper, and feminine hygiene products
As always, non-perishable food items only.
Approximately 15% of the food that is distributed in Channel One's Supplemental Food Shelf comes from community food drives.  Every $1 donated, allows Channel One Regional Food Bank to provide enough food for 4 meals.
Facts:
1 in 10 Minnesotans are food insecure
1 in 6 children in Minnesota are at risk of hunger
3,400 families are served each month at the Chanel One Supplemental Food Shelf
DELAYED OPENING DUE TO WEATHER
ONB Bank offices will open at 8:30am, Monday, February 25, 2019.  This will allow our staff to safely commute to work during this winter storm.  We thank you for your patience and understanding.
Jeans Day Donations – 12/26/2017
We are excited to announce that we were able to raise $1,770 in 2017 with our Employee Jeans Day donations! Our staff has the option of wearing jeans on Fridays for $10/month. At the end of the year everyone nominates their favorite charities and a few are drawn to receive the proceeds. Through our staff's dedication to give back to our community, we were able to donate to 4 different charities this year.
Our 2017 proceeds were donated to:
American Red Cross for Hurricane Harvey relief fund
Salvation Army
Women's Shelter
Channel One
First Time Homebuyer Savings Account – 10/3/2017
Buying A First Home Just Got Easier
People saving for a down payment on their first home in Minnesota can now take advantage of the First-Time Homebuyer Savings Account. This new program lets individuals or couples, parents and grandparents save money in a tax-preferred savings account to go toward the purchase of a first home.
Stop into ONB to open your new savings account today!
For more information, visit this link: http://homeownershipmatters.realtor/states/minnesota/savings-account/
YMCA LIVESTRONG Family Fun Run and Walk – 9/18/2017
ONB is a proud sponsor of the YMCA LIVESTRONG Family Fun Run and Walk taking place on Saturday October 14, 2017. This event brings the community together to celebrate those who are living beyond cancer diagnosis and to remember those lost to cancer.
Games, inflatables & music
1 mile or 5k
Costume Contest with prizes!
For more information, visit their site at http://www.rochfamy.org/schedules-events/events/livestrong-family-fun-run-and-walk.php
ONB Bank is providing this announcement as a courtesy for its customers and is in no way directly connected to this incident.
Equifax breach statement. 
https://www.equifaxsecurity2017.com/
Statement on site.
Equifax Announces Cybersecurity Incident Involving Consumer Information
September 7, 2017 — Equifax Inc. (NYSE: EFX) today announced a cybersecurity incident potentially impacting approximately 143 million U.S. consumers. Criminals exploited a U.S. website application vulnerability to gain access to certain files. Based on the company's investigation, the unauthorized access occurred from mid-May through July 2017. The company has found no evidence of unauthorized activity on Equifax's core consumer or commercial credit reporting databases.
The information accessed primarily includes names, Social Security numbers, birth dates, addresses and, in some instances, driver's license numbers. In addition, credit card numbers for approximately 209,000 U.S. consumers, and certain dispute documents with personal identifying information for approximately 182,000 U.S. consumers, were accessed. As part of its investigation of this application vulnerability, Equifax also identified unauthorized access to limited personal information for certain UK and Canadian residents. Equifax will work with UK and Canadian regulators to determine appropriate next steps. The company has found no evidence that personal information of consumers in any other country has been impacted.
Equifax discovered the unauthorized access on July 29 of this year and acted immediately to stop the intrusion. The company promptly engaged a leading, independent cybersecurity firm that has been conducting a comprehensive forensic review to determine the scope of the intrusion, including the specific data impacted. Equifax also reported the criminal access to law enforcement and continues to work with authorities. While the company's investigation is substantially complete, it remains ongoing and is expected to be completed in the coming weeks.
"This is clearly a disappointing event for our company, and one that strikes at the heart of who we are and what we do. I apologize to consumers and our business customers for the concern and frustration this causes," said Chairman and Chief Executive Officer, Richard F. Smith. "We pride ourselves on being a leader in managing and protecting data, and we are conducting a thorough review of our overall security operations. We also are focused on consumer protection and have developed a comprehensive portfolio of services to support all U.S. consumers, regardless of whether they were impacted by this incident."
Equifax has established a dedicated website, www.equifaxsecurity2017.com, to help consumers determine if their information has been potentially impacted and to sign up for credit file monitoring and identity theft protection. The offering, called TrustedID Premier, includes 3-Bureau credit monitoring of Equifax, Experian and TransUnion credit reports; copies of Equifax credit reports; the ability to lock and unlock Equifax credit reports; identity theft insurance; and Internet scanning for Social Security numbers – all complimentary to U.S. consumers for one year. The website also provides additional information on steps consumers can take to protect their personal information. Equifax recommends that consumers with additional questions visit www.equifaxsecurity2017.com or contact a dedicated call center at 866-447-7559, which the company set up to assist consumers. The call center is open every day (including weekends) from 7:00 a.m. – 1:00 a.m. Eastern time.
In addition to the website, Equifax will send direct mail notices to consumers whose credit card numbers or dispute documents with personal identifying information were impacted. Equifax also is in the process of contacting U.S. state and federal regulators and has sent written notifications to all U.S. state attorneys general, which includes Equifax contact information for regulator inquiries.
Equifax has engaged a leading, independent cybersecurity firm to conduct an assessment and provide recommendations on steps that can be taken to help prevent this type of incident from happening again.
CEO Smith said, "I've told our entire team that our goal can't be simply to fix the problem and move on. Confronting cybersecurity risks is a daily fight. While we've made significant investments in data security, we recognize we must do more. And we will."
About Equifax
Equifax is a global information solutions company that uses trusted unique data, innovative analytics, technology and industry expertise to power organizations and individuals around the world by transforming knowledge into insights that help make more informed business and personal decisions.
Headquartered in Atlanta, Ga., Equifax operates or has investments in 24 countries in North America, Central and South America, Europe and the Asia Pacific region. It is a member of Standard & Poor's (S&P) 500® Index, and its common stock is traded on the New York Stock Exchange (NYSE) under the symbol EFX. Equifax employs approximately 9,900 employees worldwide.
How to See if You Were Affected by the Equifax Cybersecurity Incident | Equifax
https://www.equifaxsecurity2017.com/potential-impact/
YMCA FORE THE KIDS Golf Tournament – 8/30/2017
ONB has sponsored the Putting Contest for the YMCA FORE THE KIDS Golf Tournament taking place at Eastwood Golf Course on September 13, 2017. All proceeds from this event benefit the Y's Open Doors Scholarship program.  The Y believes that all kids should have open access to Y programs and activities regardless of their ability to pay.  In 2016 alone, the Y provided 2,704 people with financial assistance for Y programs to build healthy spirits, minds and bodies for all. Help support this program by checking out their website at http://www.rochfamy.org/

PossAbilities Wine & Roses and Craft Beer – 4/24/2017
ONB Bank is a proud supporter of PossAbilities. PossAbilities will be hosting an event on Friday April 28th, 2017, Canadian Honker Events at Apache, Rochester. The fun starts at 5:30pm. Awesome appetizers, craft beer tasting, can't miss cuisine, wine sampling, wall of craft beer & wine, experts describing craft beer, silent & live auction. Take this opportunity to support PossAbilities and all the individuals that they serve. If you will be attending the event, check out our silent auction basket! For more information about the event, visit  https://www.possabilities.org/story/events/.
Best Practices for Mobile and Internet Banking – 4/18/2017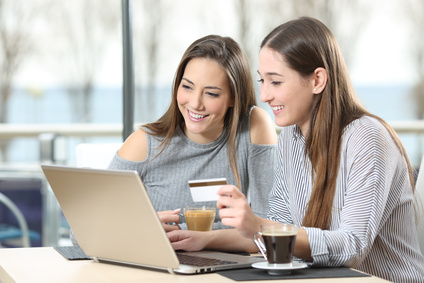 In this increasingly connected world, consumers must take proactive steps to safeguard their data. Channels (such as online and mobile banking) and tools (such as social networks) have become a part of our daily landscape. Due to increased risk of personal data being compromised and also increased probability for fraudulent transactions from these added conveniences, consumers should take the time to review the following recommendations for risk mitigation:
Be vigilant in reviewing your financial statements and monitoring your transactions. Develop the good habit of monitoring your financial accounts (e.g. bank, credit card, retirement etc.) at least weekly through online, mobile, voice banking or the ATM.
Never leave your computer, tablet or mobile phone unattended when using any Internet banking, mobile banking or other financial services.
After you have completed your Internet or mobile banking session, it is good practice to log off to ensure that the session is completed.
It is also good practice to lock your computer or mobile device whenever you plan to leave it unattended.
Never use publicly available information to create your password. Examples to avoid are common names or phrases, birthdates, social security numbers, etc. And of course, it goes without saying that you should never reveal your password to anyone.
Change your passwords frequently. Establish a routine where you change your password every few weeks to reduce the risk of a compromised account.
Avoid using password managers. Even though they may be convenient, password managers create a habit of not changing your passwords regularly and therefore make it easy to forget your passwords over time.
Never click on links or applications that you receive in e-mail, as those are common ways viruses, malware and malicious software are installed. If you get an e-mail with links purporting to be from your financial institution, please visit your financial institution's main website through your browser or call your financial institution to verify legitimacy.
Keep your passwords/pin confidential. Under no circumstance will you be asked to provide it to your financial institution.
While using the Internet, verify use of a secure session ("https://" and not "http://") in your browser's address bar. This is your indication that the data being transmitted between your browser and your financial institution's systems is securely encrypted.
Install anti-virus and anti-malware software. There are many good applications available for both your computer and your mobile device. Some are even free. Also, remember to keep these products updated regularly so they can be most effective.
If you have a mobile device such as a Smart phone or tablet, ensure that you install software capable of remotely wiping the device should it get stolen or lost.
The minute you suspect that your device is lost or stolen, notify your mobile carrier and suspend your service.
Install mobile software only from the Android Market or the Apple App Store and never a 3rd party site. Android users should read the permissions requested by the application carefully and determine whether the permissions coincide with the alleged function of the application.
Do not "jailbreak" your iPhone or "root" your Android to avoid unintentionally opening "backdoors" for malicious software.
Turn off wireless device services such as Wi-Fi, Bluetooth and GPS when they are not being used.
Avoid using unsecured public wireless connections. If you must, then use VPN software to provide a secure "tunnel" within which to work.
Be aware of the types of information that you post to social networking sites. Ensure you know who your "friends" are on such sites and do not accept "friend" requests from unverified parties. Statistics show that users of such sites experience a higher incidence of fraud. Use privacy settings on social networking sites to control who is able to access your personal information.
If your Internet and mobile banking service has extensive alerts available for your use, be sure to take advantage of these alerts. Once you set up the alerts you need, your financial institution's systems will notify you of activity on your accounts.
Checks and your financial statements all have your private financial information on them. Request electronic statements and use online bill pay whenever possible to reduce the paper trail and the risk of your account information being compromised.
If you suspect fraudulent activity or have doubts about the authenticity of a site or communication you have received via any medium, please call your financial institution at 507-280-0621 or 507-280-0028.
Understanding Mobile Apps – 3/20/2017
Protecting your identity and personal information consists of constant monitoring and an understanding of how the electronics you use on a daily basis operate. This article talks specifically about Mobile Apps. What is a mobile app? What types of data can apps access? Could an app infect my phone with malware? To learn more please visit https://www.consumer.ftc.gov/articles/0018-understanding-mobile-apps.
Next Chapter Ministries Annual Restoration Celebration – 3/13/2017
ONB is a proud supporter of Next Chapter Ministries. Next Chapter Ministries is hosting their Annual Restoration Celebration on March 17, 2017 at the Rochester International Event Center. For more information on what Next Chapter Ministries does and how to get your tickets to this event, please visit  http://nextchapterrochester.org/.
Financial Goals – 3/6/2017
It is important to us here at ONB to help you achieve your financial goals. One of your financial goals should include building your savings. We came across this article that can help you get started on the right track. https://www.consumer.ftc.gov/articles/0498-its-never-too-early-or-too-late-save
Stop in to speak with a Personal Banker today for more information on ONB Savings Accounts.
The Salvation Army – 33rd Annual Taste of the Town – 2/28/2017
ONB is a proud supporter of The Salvation Army and their 33rd Annual Taste of the Town event taking place on Sunday March 5, 2017. For more information on the event please visit http://salvationarmynorth.org
Rochester Area Builders Home Show – 2/1/2017
Everything you need under one roof! Join us February 10-12, 2017 at Mayo Civic Center for the RAB Home Show. Stop by ONB Bank's booth (#609) to talk with a representative about financing your next home project. You will also be able to register for one of our great prize giveaways. We hope to see you there! For more information visit: http://www.rochesterareabuilders.com/public-events/home-show/
Data Privacy Day 2017  – 1/23/2017
International Data Privacy Day is January 28, 2017. Learn how to protect your personal information and spread awareness to others about cyber security. For more information visit: http://www.staysafeonline.org
Rochester Area Sports Banquet – 1/19/2017
ONB is a proud sponsor of the Rochester Area Sports Banquet, hosted by Rochester Amateur Sports Commission. The banquet takes place on January 30, 2017 at the Mayo Civic Center – Exhibit Hall. Silent auction proceeds will benefit Bolder Options.
For more information on the event visit: http://www.rochsports.org/sportsbanquet
For more information on Bolder Options visit: http://bolderoptions.org/
Martin Luther King Jr. Day Holiday Hours – 1/9/2017
ONB Bank will be closed on Monday January 16th in observance of Martin Luther King Jr. Day. We will resume regular hours on Tuesday January 17th.
Jeans Day Donations – 1/3/2017
We are excited to announce that we were able to raise $1,510 in 2016 with our Employee Jeans Day donations! Our staff has the option of wearing jeans on Fridays for $10/month. At the end of the year everyone nominates their favorite charities and a few are drawn to receive the proceeds. Through our staff's dedication to give back to our community, we were able to donate to 3 different charities this year.
Our 2016 proceeds were donated to:
Salvation Army
Humane Society
Make a Wish Foundation
Wit, Wisdom & Wine – 12/30/2016
ONB is proud to support local organizations such as the Rochester Public Library Foundation. Rochester Public Library will be hosting their 16th Annual Wit, Wisdom & Wine event on January 14, 2017. Be sure to bid on the ONB Silent Auction Basket while you are there! The basket includes a LTS Growler, LTS Gift Card, 2 ONB Pint Glasses, 2 ONB Can Koozies, and an ONB T-Shirt. For more information on the event go to www.RochesterPublicLibrary.org/wit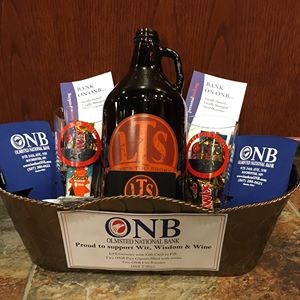 New Year's Day Holiday Hours – 12/28/2016
ONB Bank will be closed on Monday January 2nd in observance of New Year's Day. We will resume regular hours on Tuesday January 3rd. We wish you a Safe and Happy New Year!
New Business Banking Online
There have been a few recent changes to our website. We now have a Business Banking Online feature. With the Business Banking Online feature you can setup administrator control over who can access your account. You control what your bookkeepers, employees, CPA, etc. can access. You can also create your own ACH batches for payroll, making payments, accepting payments from customers and more. Wire Transfers can also be requested securely. Please call to set up a time to come in and get your business switched over to the new Business Banking Online. If you are a business currently using online banking and haven't made the switch yet, you will need to log into your accounts using the Personal Banking Link.
Rochester Community Housing Partnership
ONB Bank proudly supports Rochester Community Housing Partnership. Rochester Community Housing Partnership (CHP,) a non-profit, has a mission of educating, collaborating and advocating to provide affordable housing in southeast Minnesota. The pre-purchase counseling offers new homeowners the ability to review their current financial situation and find a mortgage product that will best meet their needs in obtaining a home.
Home Buyer education gives a new homeowner a better understanding of the process of buying a home. The goal of home buyer education is to prepare the buyer for Obtainable, Maintainable, and Sustainable homeownership.
Homeowners counseling-foreclosure counseling walks people through the opportunities of staying in their home when their financial picture is or has changed.
To learn more about Rochester Community Housing Partnership, check our their website rochp.org.
Once you are ready to take the next step, stop into our ONB Main Office to see Josh Buckmeier for all your Real Estate Lending needs.
IRA One-Rollover-Per-Year Rule Changes Effective January 1, 2015
The IRS has announced that the longstanding interpretation of the one-rollover-per-year rule will be changing effective January 1, 2015. Historically, the understanding has been that this rule applies to each IRA an individual owns. However, beginning "as early as January 1, 2015", according to the IRS website announcement, "you can make only one rollover from an IRA to another (or the same) IRA in any 12 month period, regardless of the number of IRAs you own". For more details, see the IRS announcement on their website: http://www.irs.gov/Retirement-Plans/IRA-One-Rollover-Per-Year-Rule.
Important Notice: Unauthorized access to payment card data at Supervalu Grocery Stores (Cub Foods).
A data breach at Supervalu may have impacted as many as 200 of its grocery and liquor stores and potentially affected retail chains recently sold by the company in two dozen states, including Cub Foods. The breach occurred between June 22nd and July 17th.
The information theft included customer name, credit or debit card number, the card's expiration date and CVV (the three-digit security code).
MasterCard provided ONB Bank with a list of debit cards that may be at risk and if your name appears on any list you will receive a personal phone call from the bank to discuss your options.
As always, please review your statements for unusual transactions. If you suspect fraud, please contact ONB Bank immediately at (507)-280-0621.
Android "Fake ID" flaw announced by Google
On July 29, 2014, Google announced that Android® devices could be left open to attack from malicious apps that appear to come from legitimate developers, due to a flaw in Google's mobile software. The flaw has been named "Fake ID" by security company Bluebox Labs, which discovered it.
Fake ID has been resident in Android® from version 2.1 to 4.4. Apparently, Google issued a fix in April as part of the latest update, Android® 4.4, also known as KitKat 4.4. If you have not upgraded your device to this version of their operating system, your mobile device could still be at risk.  You can easily verify your software version by going to Settings>About Phone and looking for the Android software version installed.
We make no recommendation of any third party security products. However, you may wish to review and determine if such services are appropriate for your individual needs.
We recommend that you upgrade all of your Android® device operating systems to version 4.4 or higher. We also recommend that all of our mobile banking clients update their operating systems as soon as possible after being prompted by the device to ensure a safe and secure mobile banking experience.
Thank you!
ONB Bank
We have added a new feature to ONB Mobile App, Mobile Billpay!!  Whether you're at home, work, or on the go, use the ONB Mobile App on your smart phone or tablet to pay bills when it's convenient for you.  Bounce back and forth between the Online Banking and Mobile App versions seamlessly.  They're synced for accuracy and convenience.  That's important!
For current ONB Mobile App users, just download the update from the App Store on your mobile device and start using this convenient service!